Roland SH-101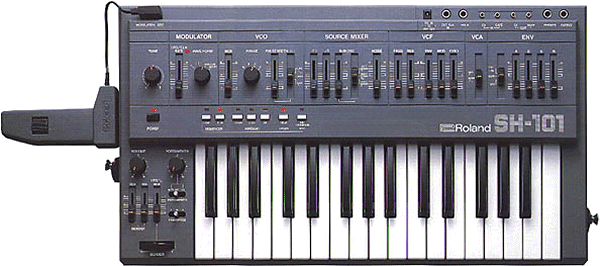 My first synthesizer... yes, including the mod grip, which turned out to be pretty useless in my case. Bought new in 1983... at that time, I was a student who really thought he might land on a stage someday... hehe, that never happened, but this little synth is still with me.
Plastic case, not as infinitely variable as a big modular thing, but still - it's a powerful bass synth and I wouldn't want to miss it.
It's monophonic with 3 oscillators (pulse, sawtooth, and a suboscillator) plus noise; has an LFO that can be switched between triangle, rectangle, noise, and random (sample-and-hold). It has this Roland-style bender which can be moved left and right and can be individually assigned to VCO and VCF, and if you press it up, it can trigger LFO modulation of the VCO. Poor man's mod wheel, so to say.
A novelty back then, this thing is computer-controlled and has an arpeggiator, even a little step sequencer. Later, Roland brought an Expander version on the market which had a quite versatile sequencer which could even record two voices (one played internal, one over the CV/Gate jacks) called MC-202. I had that, too, but it's gone to a new home some years ago. I'm still a bit unsure whether it was a good idea to sell it...
Just yesterday, I added an internal MIDI interface to it. This is now possible, thanks to a great little thing called Synhouse Midijack. Looks nearly like a factory feature!
| | | |
| --- | --- | --- |
| | Last update: 09/03/02 | |